Giới thiệu máy đo âm thanh và độ rung Nor150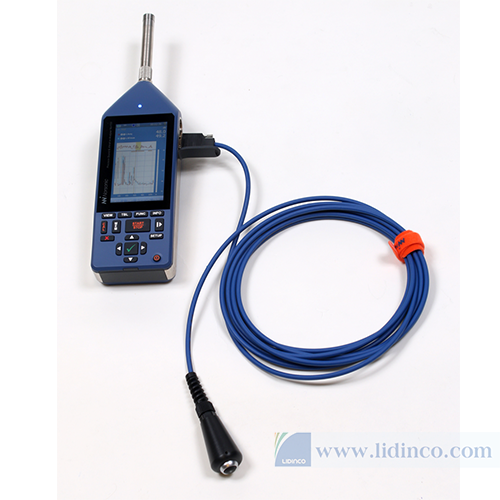 Máy phân tích âm thanh và rung động Nor150 là thiết bị đo cao cấp với độ chính xác, độ tin cậy cao, phù hợp với hầu hết các tiêu chuẩn đo quốc gia và quốc tế giúp bạn dễ dàng hoàn thành các công việc phân tích và nghiên cứu của mình
Model Nor150 cung cấp thêm 2 kênh đo lường, máy ảnh, GPS, kết nối với internet và điện thoại. 
Tính năng và đặc điểm
Giao diện người dùng trực quan với các biểu tượng đồ họa để lựa chọn chế độ đo và thiết lập người dùng tùy chỉnh.

Giao tiếp qua internet, 3G.

Lưu lại dữ liệu bằng camera, GPS

Dải tần số rộng để đo rung và tần số thấp (0,4 Hz – 20kHz trong băng tần 1/3 octave).

Dải đo 120dB.

Máy đo tần số và âm thanh mức độ chính xác cao Cấp 1.

Kênh đơn hoặc kênh kép.

Màn hình cảm ứng màu lớn (4.3 ").

Bàn phím thực để hoạt động trong môi trường đặc biệt

Hệ thống kích hoạt mở rộng cho các báo cáo, ghi âm và camera.

Tích hợp liền mạch với phần mềm Nor850.

Hỗ trợ đa ngôn ngữ.

Mở rộng trên hệ thống trợ giúp.
Thông số kỹ thuật
The Nor150 sound and vibration analyser is supplied with ½" preamplifier Nor1209 and the ½" measurement microphone Nor1225. It conforms to the latest revision of the following National and International standard including amendments, all type 1 / class 1; IEC61672, IEC60651, IEC60804, IEC61260, DIN45657, ANSI S1.4, ANSIS1.11, and ANSI S1.43.
Thông số đo
Simultaneous measurement of SPL, Leq, LeqI, LMax, LMin, LE, LEI, LPeak, Ln and Tmax5.

Time weighting functions: Fast, Slow and Impulse (Simultaneous).
Spectral weighting functions: A, C and Z – weighting (Simultaneous).
Frequency analysis: 1/1 and 1/3 octave real time filters from 0,4 Hz to 20 kHz.
Statistical calculations: 8 individual adjustable percentiles from L0,1% to L99,9%, The statistical calculations are performed in real time within each frequency band and for each profile period if period length is set longer than 2 minutes. User can select between Fast or Slow time weighting as basis for the statistical calculation.
Điều khiển kết quả đo
Overall measurement duration: 1 sec – 7 days. (If set to Repeat or Synchro mode a new measurement will be started automatically, with no time gap between each measurement.).
Time profile A resolution: 5 ms – 24 hours including full frequency spectra. From 1 sec if profile B or Moving is enabled.
Time profile B and Moving resolution: 1s – 24 hours. A, C and Z –

no frequency spectra.

Back erase in Pause mode: 0-20 sec free selectable graphical back erase.
Ghi tín hiệu
12 and 48 kHz sampling rate / 8 , 16 and 24 bits / 0-120 sec pre-trigger.
Dải đo
One range covering 120dB without any range adjustments.

Self noise measured with 1/2" microphone with a nominal sensitivity of 50mv/Pa: 17 dBA.

Maximum RMS level 137 dBA, Maximum Peak level 140 dB PeakC.

The high SPL mode enables measurements up to 194 dB using a suitable 1/4" microphone.
Phát tiếng ồn
Built in noise generator with Sine, White, Pink and 1/1 and 1/3 octave band passed filtered noise and Impulse noise.
Cường độ âm thanh
Full on-board support for ISO9614-2 with intuitive warning indicators and measurement based suggestions for improvements. Fulfils IEC61043 class 1 requirements.

Dynamic capability Nor150 combined with Nor1290 Sound Intensity probe with 12mm spacer; >18dB (125Hz -10kHz), >13dB (f ≥40Hz)
Màn hình
4,3" colour display, ¼ VGA with capacitive touch. Protected by an anti-smudge coated and scratch-proof glass.

GPS/Camera

Built in GPS.

Built in Camera for annotation before and after a measurement. Support for use of external IP or device cameras for event triggered pictures during a measurement. The event captured pictures are automatically timestamped, transferred to Nor150 and are bundled with the measurement.
Lưu trữ và chuyển đổi dữ liệu
Storage modes: Manual, Auto, Repeat and Synchro. Synchro  synchronise the start of the next measurement to the next full hour.
Internal memory: 350 MB – not used for measurement storage.
Micro SD card: Up to 64 GB, supports XC and HC standard.

Data can also be stored on an external USB stick.

Data transfer via LAN, USB and high-speed RS232. Supports WLAN and GPRS – 3G/UMTS – 4G/LTE via USB.
Đầu vào
Microphone input: Two microphone inputs (Second channel optional). Supports standard 7 pin lemo preamplifiers including SysCheck, Microphone heating, TEDS and IEPE. Polarization voltage: 0, 70 and 200V. Preamplifier voltage is ± 15V. Both channels are connected to the main microphone input in Sound Intensity mode. Channel 2 is multiplexed and replaces the SysCheck feature.
Comment microphone: Via 3 pin mini jack.
Đầu ra tương tự
AC out, 100mV full scale on 15 pin I/O socket.

3 pin mini jack headphone socket for replay of voice notes, listen to microphone AC signal or replay of audio recordings. Comment microphone for voice notes is connected to same plug.

Signal generator on 15 pin I/O socket with Pink, White, Band-pass filtered, sine and impulse noise.
Nguồn cấp
Rechargeable 3,5Ah Li-Ion batteries with fuel gauge.




External power 10-28Vdc 3-5Watt.

Typical battery lifetime: 8 hours.
Dimensions (ex. preamplifier and microphone LxWxH): 240 x 82 x 39mm.
Weight (including preamplifier and microphone): 700g.
Phụ kiện
Nor150, Precision Sound Analyser with A, C and Z weighting networks, Parallel time constants, Statistical calculation and time profile A.
Supplied with:
Rechargeable battery pack

Mains adaptor Nor345

Carrying case Nor1340

32GB micro SD card

USB cable Nor4525

Microphone Nor1225

Preamplifier Nor1209

Windscreen Nor1451

WiFi dongle Nor4614A

Instruction manual,

3 years warranty and calibration certificate

Nor1051 NorConnect software for file transfer & measurement view

NorVirtual – sound level meter emulation program.